Description
"Phil Haynes has established a reputation as one of the top
drummers and composers of his generation."
~ Jazz Ed Magazine
http://digitaleditiononline.com/publication/?m=27630&l=1
"Despite the fact that the album [In Concert] is not likely to be a 'hit' on the marketplace, it does merit musical comparison with Miles Davis' all-time best-selling Kind of Blue (Columbia, 1959)."
"Led by Mr. Haynes . . . No Fast Food is a trio inspired by a spirit of collectivism and by the intrepid ethos of the 1970's.  The band's other members are Dave Liebman, on saxophones and flute, and Drew Gress, on bass; this booking comes on the heels of a representative double album, In Concert."
~ The New York Times
"Phil Haynes and his No Fast Food bandmates are the kind of jazz musicians who make you realize that chopping the genre into subcategories is a pretty silly endeavor.  From tough, deep-pocket postbop to pure-sound improv, every option is in play for this exemplary trio."
~ Time Out New York
"Some of the most interesting new sounds in contemporary jazz."  
"ZEN LIEB"
"TOGETHER" 
"THE CODE" 
"As someone who first was introduced to creative music in the late 1960's . . . the music one hears on In Concert hearkens back to those nights in airless concert spaces or large churches, when the music would cut right through the listener, bounce off the walls, shock, soothe, and challenge everyone in the audience . . .
No Fast Food is a fine credo to live by."
~ Step Tempest
​
"A two disc set of all original material from drummer Haynes that evolves into ongoing lyrical conversations . . .  creates, deconstructs and reassembles tunes at will.  Dynamics move with analmost spatial grandeur . . . They just don't make them like this anymore.
Ridiculously good – one of the two best trios since the legendary Elvin Jones trio.  
*  *  *  *  *   "
DREW GRESS
Bassist/composer Drew Gress performs extensively with artists on the cutting edge of contemporary improvised music. His latest project – The Irrational Numbers (Premonition), features Drew's original compositions for quintet. Earlier releases include the critically-acclaimed 7 Black Butterflies (2005), Spin & Drift (2001), and Heyday (1997). Future projects include a new quintet project, a solo bass recording, and an electronics project soon to be unveiled. Drew can also be heard within the ensembles of John Abercrombie, Ralph Alessi, Tim Berne, Don Byron, Uri Caine, Bill Carrothers, Ravi Coltrane, Mark Feldman, Fred Hersch, John Hollenbeck, Tony Malaby, and John Surman.
DAVID LIEBMAN
David Liebman's career has spanned over four decades, beginning in the early '70s with his "apprenticeship" period performing and recording in the groups of drummer Elvin Jones (Live At The Lighthouse) and Miles Davis (On The Corner). Since then he has lead his own groups (Lookout Farm; Quest;The Dave Liebman Group) featuring musicians such as John Scofield, Richie Beirach, Billy Hart, Adam Nussbaum, Al Foster, John Abercrombie and Vic Juris. "Lieb" has consistently placed among the top three in the Downbeat Critics Poll for Soprano Saxophone since 1973 – winning first place in both the Downbeat and Jazz Times Critic's Poll in 2011.  In 2011, Liebman received the NEA Masters of Jazz Award, the highest honor for jazz given by the United States government.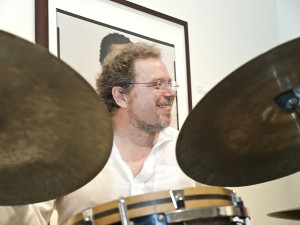 PHIL HAYNES
A 20 year veteran New York based artist, Phil Haynes is featured on more than 65 LP, DVD and CD releases by numerous American and European record labels.  His recording credentials include many of the seminal musicians of this generation: saxophonists Anthony Braxton, Ellery Eskelin, and David Liebman; trumpeters Dave Douglas, Herb Robertson, and Paul Smoker; bassists Mark Dresser, Ken Filiano, and Drew Gress; keyboard artists David Kikoski, Denman Maroney, and Michelle Rosewoman; vocalists Theo Bleckman, Nicholas Horner, and Hank Roberts; violinist Mark Feldman, and the composers collective Joint Venture.
After founding the nationally noted Jazz@Bucknell chamber series in 2005, Haynes served as Bucknell University's Kushell Jazz Artist-in-Residence.  Among his many activities from 2007-2012, Haynes taught courses each semester for the university's Music Department and directed his multi-media/new music Bucknell Interdisciplinary Improvisation Ensemble (BIIE).  The past few years have featured Haynes appointments as interim Director of Jazz Studies for both Susquehanna University, PA, and Nazareth College, NY.
"Phil Haynes!  
He swings hard like Elvin, has an acute sense of set sound and inventive figuration like Tony, and he plays with the others . . . A player who has soaked up the tradition and gives out with himself . . . within varying compositional structures for a program that never tires.
Get it if you can.  For Liebman.  For Gress.  And for Phil Haynes."
~ Grego Edwards, Gapplegate Music Review